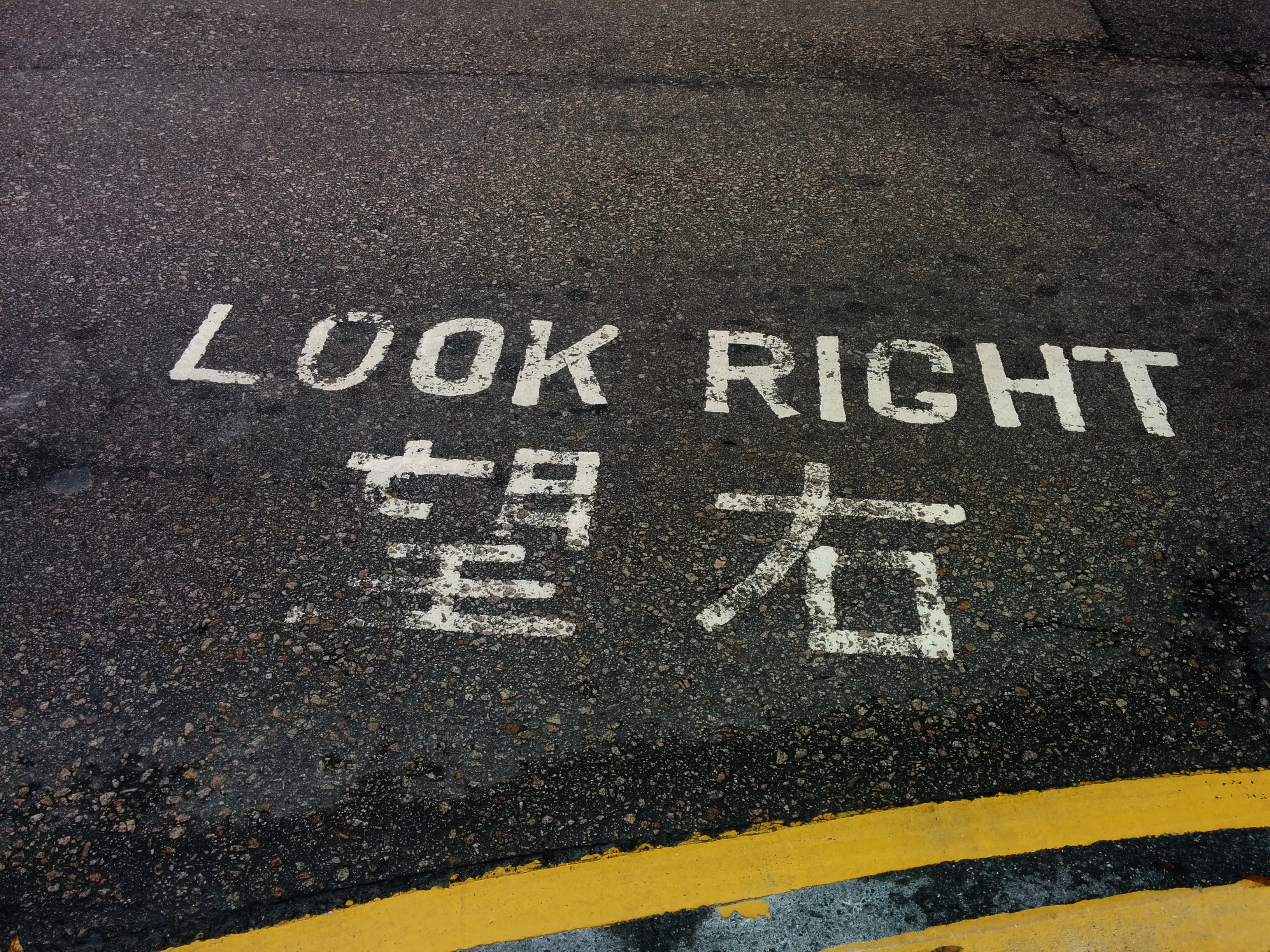 It's a beautiful thing when you can check a box next to an item on your bucket list. This year, I checked two: setting foot on South America (in April. I'll write a post eventually … maybe 😊.) and visiting Hong Kong. Bonus: a partial day trip across the Pearl River delta to Macau. So, technically, I checked off three items.
There are four main parts to Hong Kong: Hong Kong Island, the Kowloon peninsula, and the New Territories, which includes Lantau Island. Kowloon sits on the Chinese mainland, bordering Guangdong province and the city of Shenzhen. Kowloon is also where I stayed, at the Hotel Icon in the Tsim Sha Shui neighborhood. It's a great hotel in a fantastic location — about a 10 minute walk to the Hung Hom MTR station, and just under 15 minutes from Tsim Sha Tsui/East Tsim Sha Tsui station.
Speaking of the MTR, Hong Kong's subway is perhaps the best I've used. I waited no more than 6 minutes for a train — and that was on a Sunday in the outskirts of town. Buy an Octopus card. It's HKD$150, $50 of which serves as a deposit in case you need to run a negative balance for a little while. Perhaps the coolest part is that you can also use it to buy coffee and what-not at places that accept Octopus payments.
Hong Kong also has a double-decker bus system, much like that of London. Some parts of downtown Hong Kong are also served by streetcars. That said, Hong Kong is really walkable and it never seemed like I was very far from an MTR stop.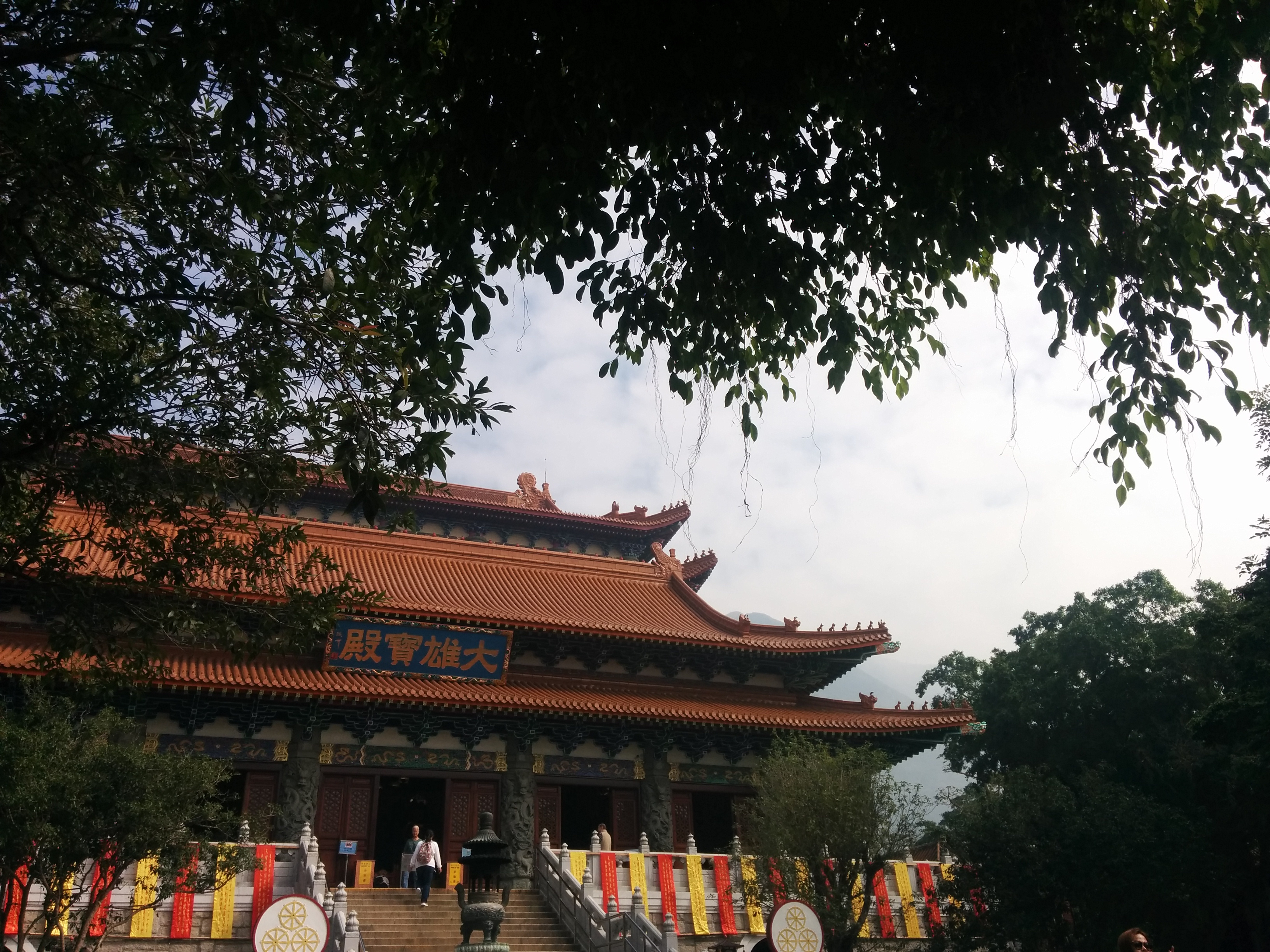 After taking a day to recover from a long haul flight, I decided to visit Po Lin Monastery on Lantau Island, home of the Giant Buddha. I took the MTR to Tung Chung Station. From there, I walked over to the Ngong Ping 360 where I waited to take the cable car across Tung Chung Bay to North Lantau.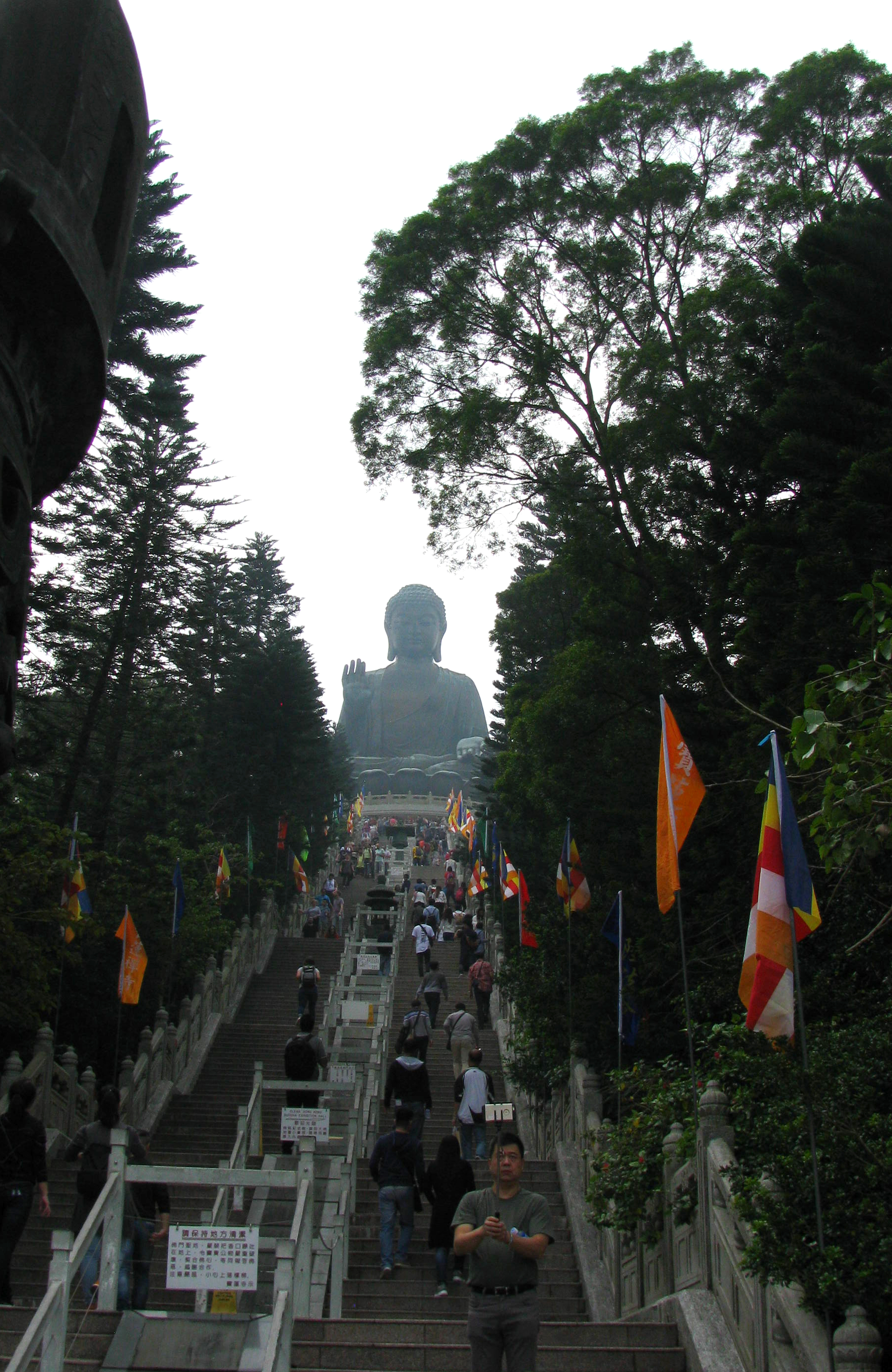 Ngong Ping lets you off at Ngong Ping village, a small tourist-friendly area of shops and restaurants. Stop in at the 7-11 for water and/or vegetarian snacks — they only sell vegetarian snacks — before continuing the walk to the Giant Buddha. The walk isn't a long one, but there are about 250 very steep steps to the top. You may sweat your face off en route.
You'll probably also see a few cows just hanging out. They're tagged and appear to live happy lives on the grounds, perhaps because they know they won't be killed for food some day. Most of the ones I saw were also amenable to photos and being gently pet.
Sometimes they lay around.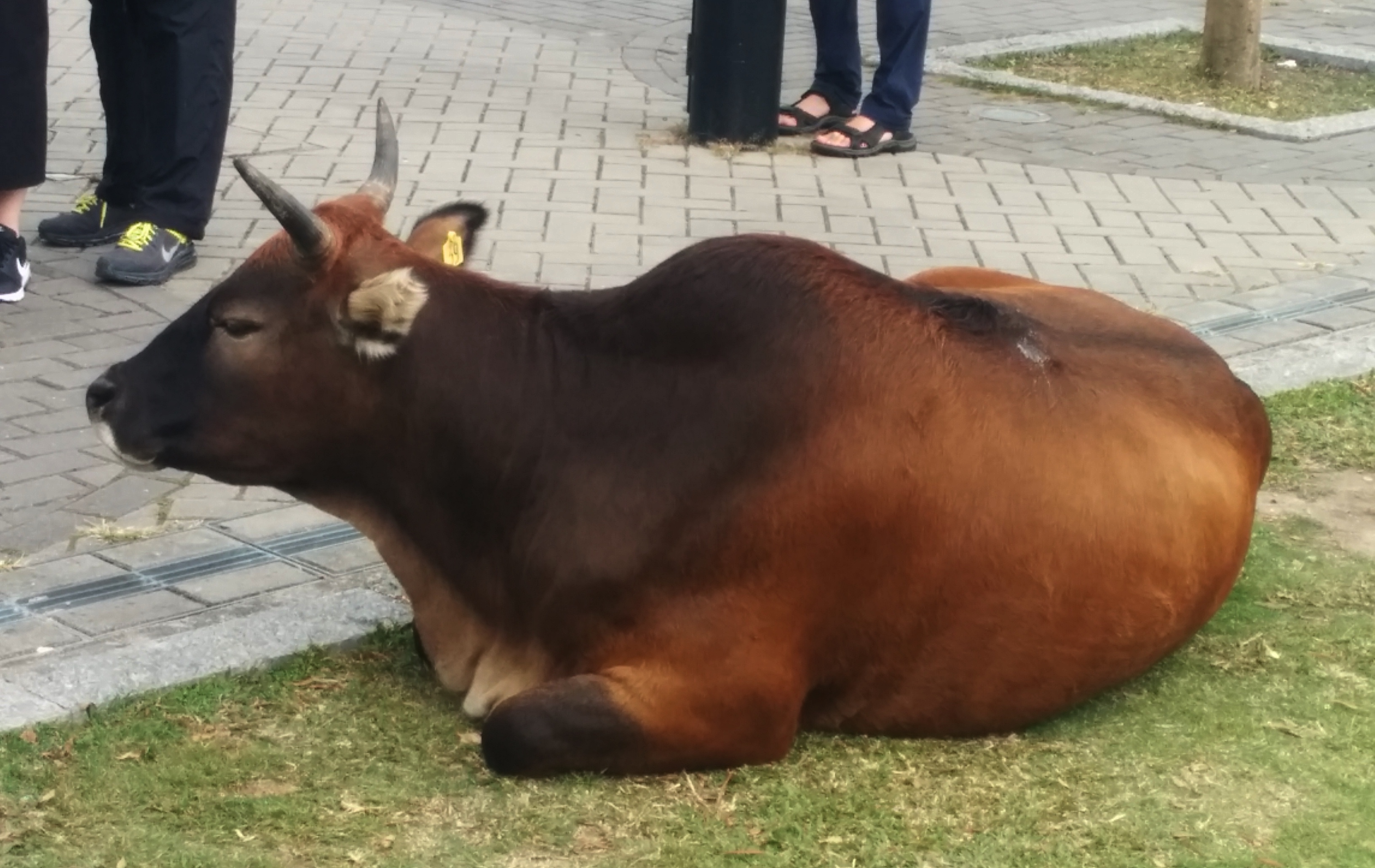 You're not supposed to feed them, but I did see a woman sneak a peeled orange to one of them.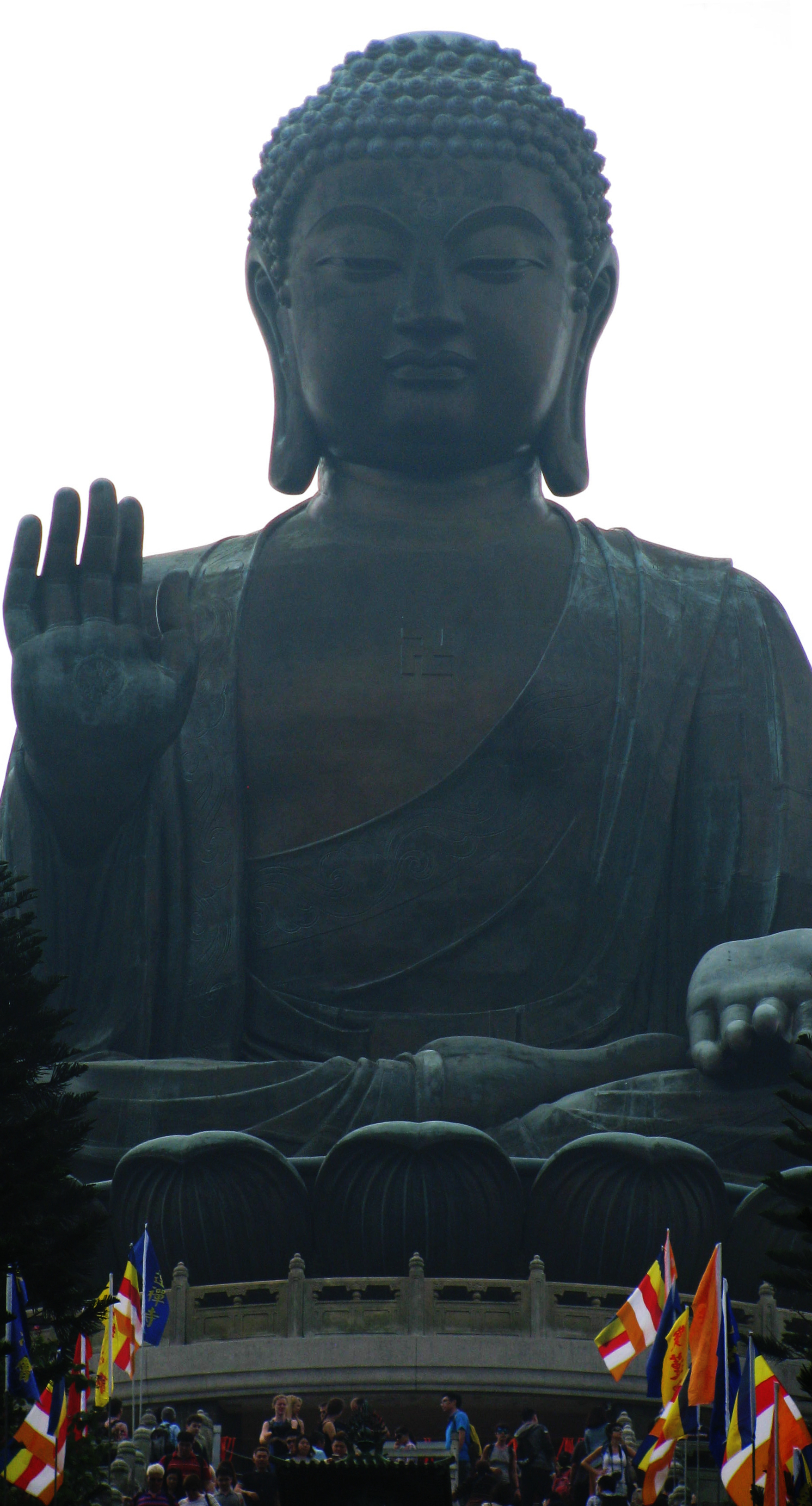 Tian Tan Big Buddha is 34 meters — about 111′ tall — and made of bronze. Describing it as big or even huge feels like an understatement. It cuts a grand figure, which you can see, soon as you step out of the Ngong Ping tram.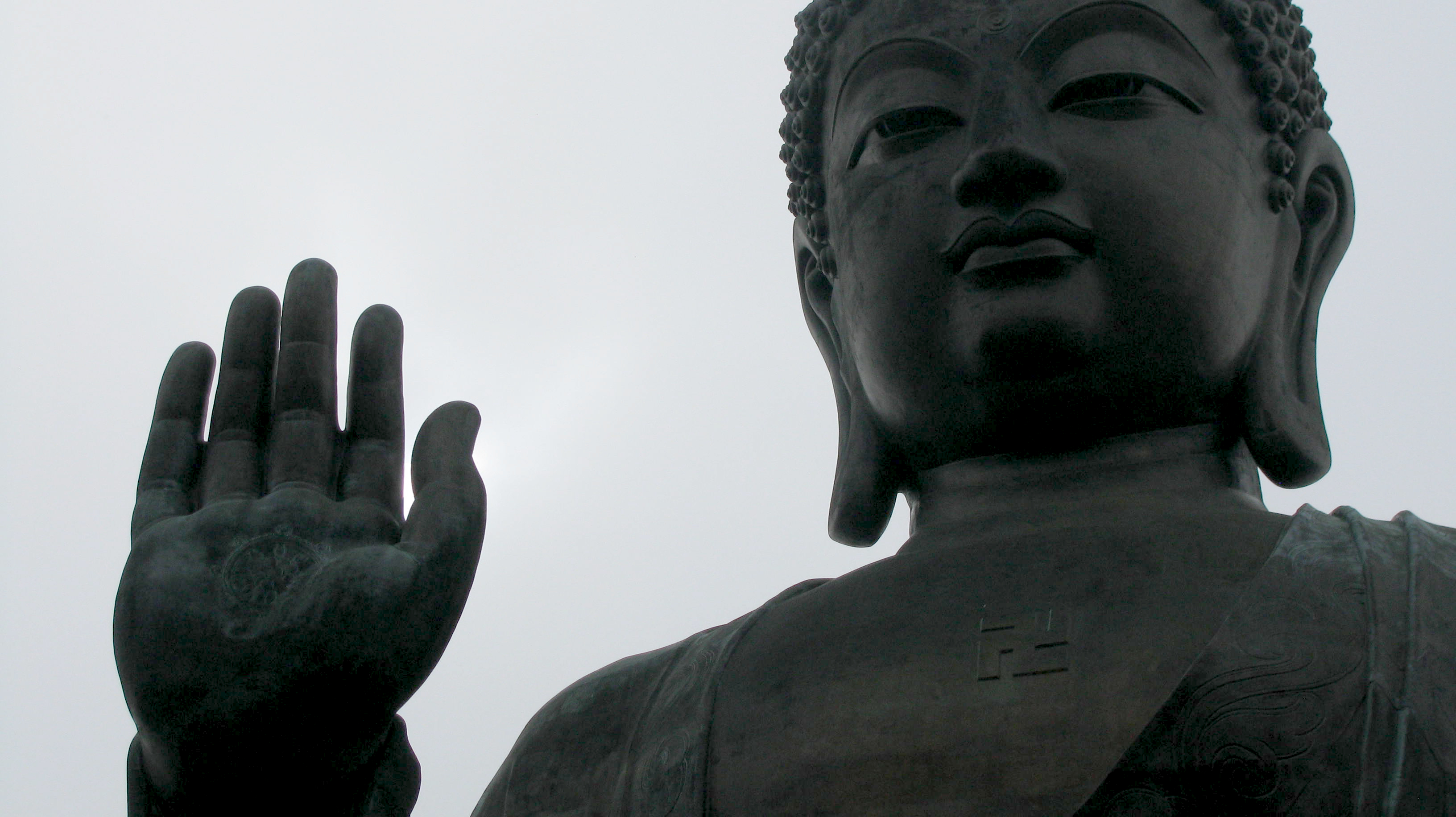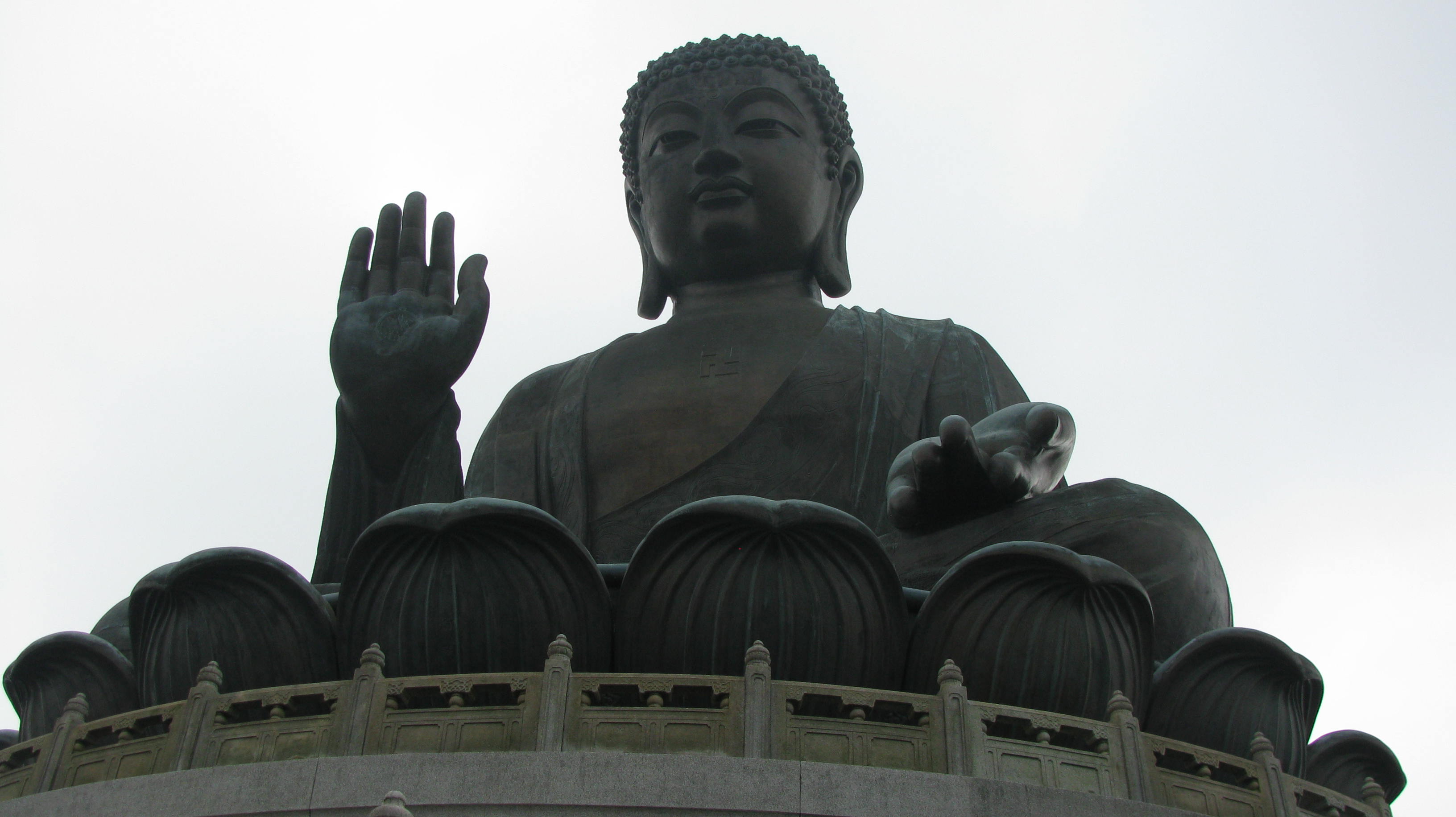 The base of Tian Tan Buddha houses a gift shop and a cemetery or shrine of sorts. I'm not familiar enough with Buddhist customs or Chinese culture to explain exactly what it was. There were no graves, but there were photos of what I assume are deceased members of the monastic community or their families prominently displayed. Some tributes also included mementos and trinkets.
Elsewhere on the grounds is the monastery itself, which includes a temple, several large incense pots, and a vegetarian restaurant that serves lunch. You can buy a meal ticket when you enter.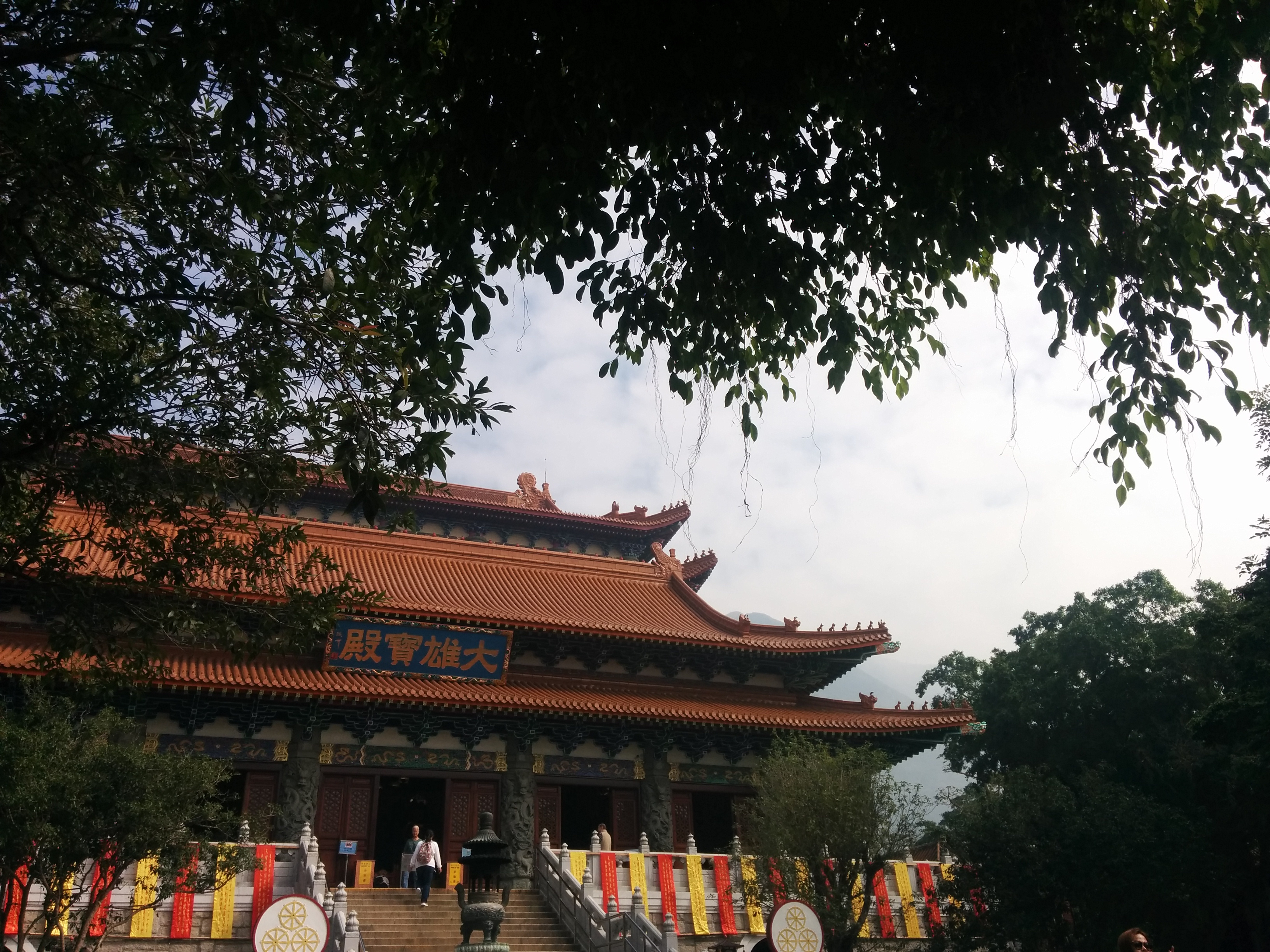 Another day, I set out to visit The Peak, sometimes called Victoria Peak. It sits at one of the highest points on Hong Kong Island, and you can see the building from across the harbor in Kowloon. The main draw is an observation deck 428 meters (about 1400 feet) above sea level with stunning views of Hong Kong island, Kowloon and Victoria Harbor.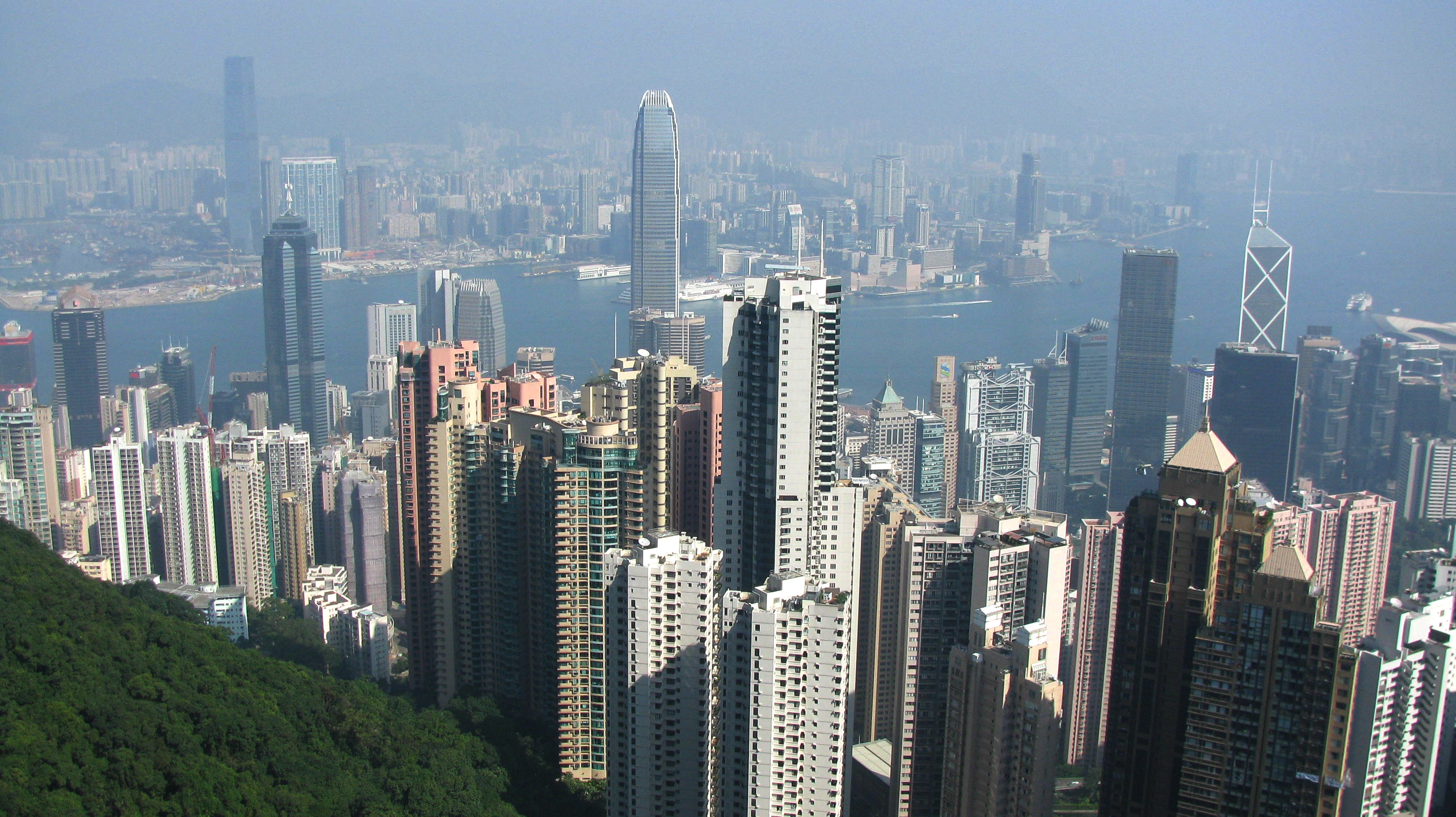 The other draw, however, is the funicular to the peak. As you ascend and clear the trees, you'll enter this crazy parallel universe where all of the buildings are 27° off of vertical. Now, that's obviously not true, but it will certainly feel that way since the funicular climbs to the top at an incline ranging from 4° to 27°.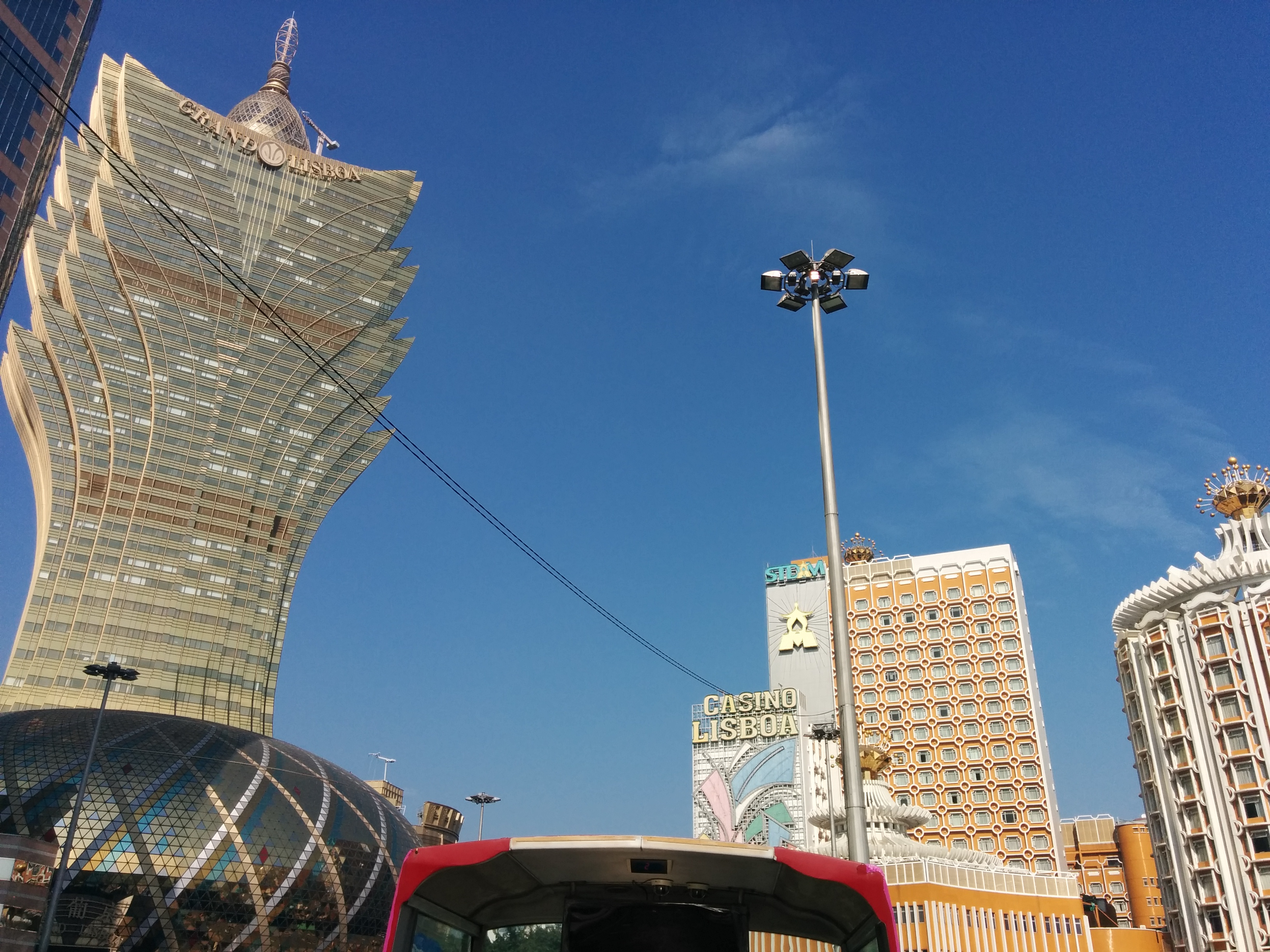 Due to some bad planning on my part, my day-in-Macau was more like three-hours- two-of-which-were-spent-passing-through-immigration-and-customs in Macau. Did you know that Hong Kong and Macau both have their own immigration controls that are separate from China? As special administrative regions of China, both function a bit like independent countries. In addition to having their own immigration controls, they also issue their own currencies, have separate court systems rooted in UK (HK) and Portuguese (Macau) law, and are mostly unaffected by the Great Firewall of China.
Hong Kong and Macau are both are former European colonies that were returned to Chinese sovereignty in the late 1990s — Hong Kong by the United Kingdom in 1997; Macau by Portugal in 1999. As part of handover process, both regions will maintain autonomy from China for 50 years. They're sibling regions, sitting on opposite sides of the Pearl River Delta where it empties into the South China Sea. You can fly to Macau directly. Or do what I did, and take the 1-hour ferry ride from the HK-Macau Ferry Terminal (near the Sheung Wan MTR station).
I spent my third hour in Macau on one of those cheesy hop-on-hop off tour buses seeing the sights. And by "sights," I mostly mean "world's gaudiest casino buildings." I thought Vegas buildings were doing too much until I saw the ones in Macau. The territory has a whopping 38 casinos crammed into about 11 square miles. This includes Vegas favorites like MGM, Sands, and Wynn. The City of Las Vegas has about as many casinos, but they're spread out over roughly 135 square miles.
I don't gamble or shop for luxury goods, so most of Macau's appeal is lost on me. But I can appreciate ostentatiousness and grandeur, and maybe even gaudiness, which Macau's casino architecture has in spades. Next time, I'll make it a proper day or overnight trip, so I can see the colonial remnants or enjoy some Macanese cuisine.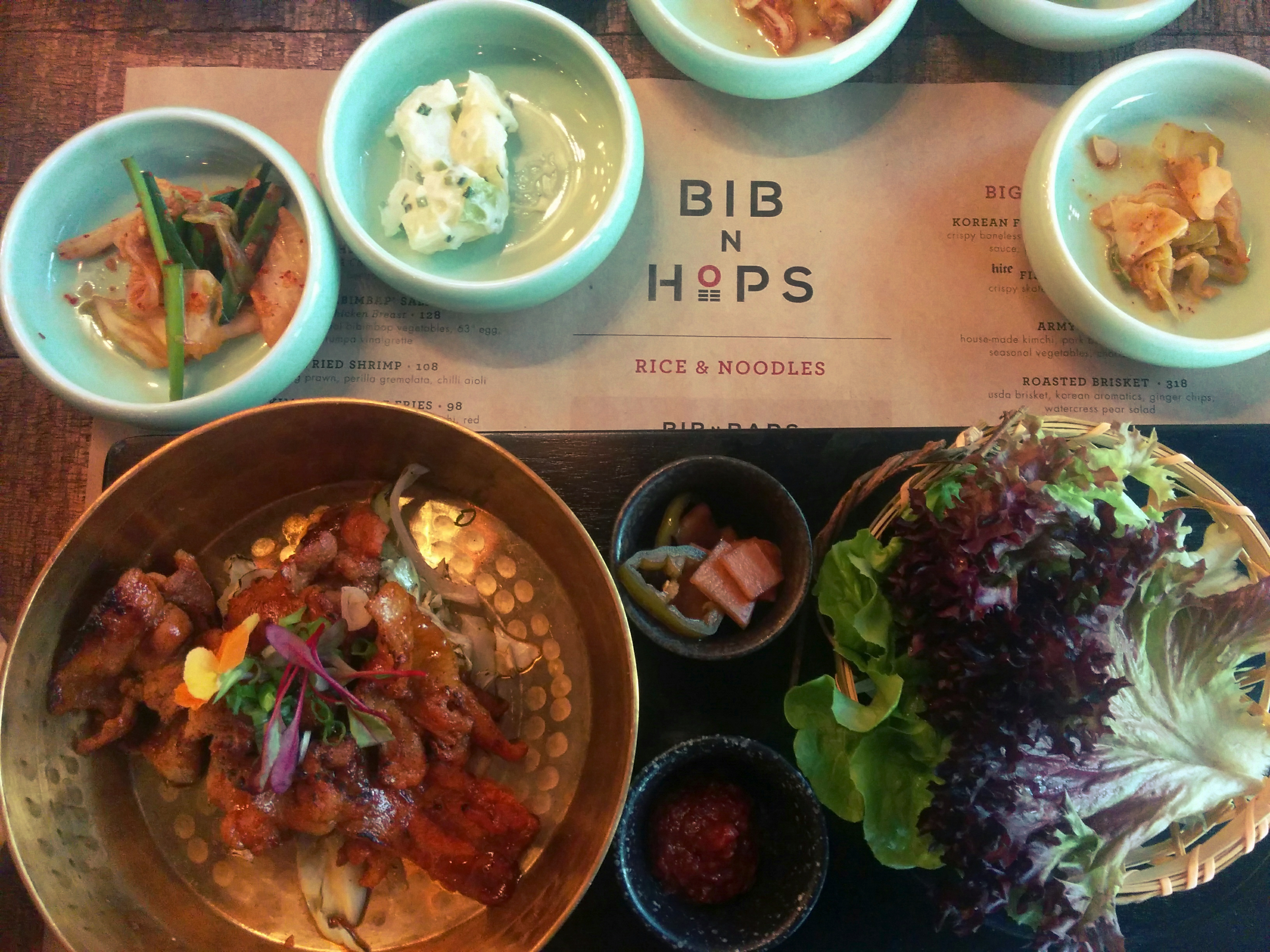 I think my favorite part of the trip, however, was Bib n Hops. It opened about a month before I visited, and serves pretty solid Korean food. I ate lunch there on my last day in HK and was delighted. Also check out Crave Magazine, an English language guide to Hong Kong and Macau restaurants. It's where I learned about Bib n Hops 😊.